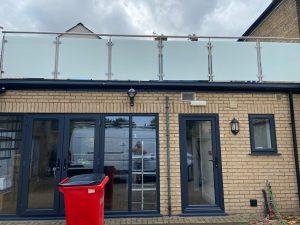 Recently completed project using glass and steel fixtures supplied and fitted by Better View Balconies.
Stainless Steel and Glass Balustrade system totaling to 11.75 linear metres with side elevation.
Frosted, toughened 10mm Glass panels to provide more privacy while enjoying deck area.
Our expertise in creating Glass Balconies, Steel Balustrades and in this case Glass Balustrade supports for the staircase, Juliet Balconies for bedrooms and  Infinity Glass balustrade for the deck was called upon.