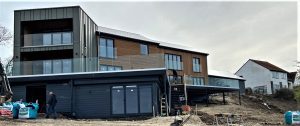 Having outstanding architectural merit with the highest standards of workmanship, Better View Balconies & Balustrades were contracted to provide some of the unique truly jaw-dropping elements.
Only recently completed, this property has many state of the art features and these were completed using glass and steel fixtures supplied and fitted by Better View Balconies.
Our expertise in creating Glass Balconies, Steel Balustrades and in this case Glass Balustrade supports for the staircase, Juliet Balconies for bedrooms and  Infinity Glass balustrade for the deck was called upon.
External Frameless Infinity Glass Balcony and Juliet Balconies
We also were contracted to provide the glass balconies feature to the external second floor Infinity Glass Balcony and Juliet Balconies.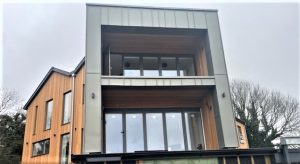 On this glass balcony, top fix steel track was installed, and glass fixed into the track. The idea here was to keep the view continuous and unrestricted.
It's very much what is known outside of the trade by the public as a glass infinity balcony which relies on strengthened glass and minimal exposed fixings. You can see from the picture that glass balcony is made up of one sheets of glass, which is over 4m in width.